How to unlock your Sony
In four simple steps with our unlocking service.
Step 1
Choose Your Phone
Click on Unlock above and select the Manufacturer and Model of the phone you want unlocked.
Step 2
Enter Phone Details

On the product page select the Country of Origin, Locked carrier, and enter the IMEI of the phone.
Step 3
Securely Checkout

Check out via Debit card or Credit card via our 100% safe and secure checkout page.
Step 4
Receive Email & Unlock Phone

We will email you the Unlock & Easy instructions in the delivery time stated & unlock your phone!
So what exactly is Phone Unlocking?
When a carrier sells a phone to you or anyone else they place a software lock on it, making it impossible to use your phone on a different carrier. In turn people are forced to purchase a brand new expensive phone every time they switch carriers and pay horribly expensive roaming charges every time they travel. And we think that stinks. It's your phone, you should be able to do with it what you please. Cell Phone Unlocking is unlocking your phone to use on another carrier, plain and simple. It disables that network lock and allows you to enter any sim card from any carrier you choose. Yeah, it's awesome. All it requires is typing a short unlock code into the cell phone's dial pad and pressing enter. Or remotely if it's an iPhone or Device unlock app phone. No cables, confusing directions, or technical smarts needed. It's as easy as making a phone call! Cell Phones have so many amazing capabilities, this is one of them! Unlocking your cell phone opens up the full potential of your cell phone and helps enhance the user experience to the max. Because cell phone unlocking has become so popular the last few years we get people from all over the globe and from all walks of life. Family's trying a network with a better plan, people saving money by switching to a cheaper pre-paid carrier, service men and women serving overseas, student's studying abroad for the semester, entrepreneurs who buy and sell phones, the list goes on and on. There's absolutely no negatives and so so many positives! I don't know about you but I love my phone and want to keep it, unlocking enables you to do that!
How do you do this online then?
Unlocking your phone online is the easiest, fastest, and most convenient way of unlocking your cell phone guaranteed! How you say? Well because all you need is some good coffee, your favorite slippers, and a good internet connection! The whole process is incredibly easy, only takes a few steps, and requires absolutely zero technical knowledge. So, let's get started! First, you'll want to get your phones 15 or 17 digit "IMEI" number by typing *#06# into the dial-pad, this is the phones serial number and is specific to only your phone. Second, using the drop-down menu- select your manufacturer and model, your phones locked country and carrier (If your phone or carrier is not listed in the drop down menus PLEASE contact us via email and we will be happy to assist), then finally enter your phones IMEI, your name, and email. Proceed to checkout where you can pay securely via Card or Paypal. We will than forward your phones information to the phones manufacturer, they will retrieve the Unlock from their manufacturer database, and lastly send it back to us. We will email you the unlock & unlocking instructions to the email that you provide us in the time stated on the website. Once received, simply power on your cell phone with a sim card that belongs to a different carrier than that of your phone, and soon as the phone boots up it will immediately recognize the non accepted sim card and a box will pop up prompting you to enter the unlock code. After you do so, double check it's correct, press enter, and it will alert you it's been accepted. Your phone may or may not re-boot, and now your phone is 100% factory unlocked for any carrier in the world! (Keep in mind some newer phones are remotely unlocked, so if it doesn't ask for a code, no worries) Finally have the freedom to use your phone on whatever carrier you choose, and we bet with minutes to spare and coffee still in your cup! Unlocking your phone has truly never been easier. If you have any questions about the online process or just want to chat we are open 24/7 and hope to hear from you soon!
After I unlock my phone what carriers can I use?
Once unlocked you will be able to use any GSM Carrier in the world! As long as the carrier uses sim cards, more than 99% currently do, then you are good to go my friend! This includes all post paid networks, prepaid networks, little networks, big networks, domestic networks, international networks, on and on. We are even able to unlock phones for CDMA carriers if your phones IMEI is compatible. All you have to do is enter your IMEI in any of these links below to see if your phone once unlocked will work with their service, if planning to use Verizon check your IMEI compatibility here: https://www.verizonwireless.com/prospect/bring-your-own-device#/. For Sprint here: https://www.sprint.com/en/shop/bring-your-phone-to-sprint.html. Boost Here: https://activate.boostmobile.com/bring-your-phone and Tracfone Here: https://www.tracfone.com/activation/coveragecheck?lang=en. Any other CDMA carriers you can visit their website, or call their support line or just ask and we would be happy to help! Wireless freedom at the tip of your fingers! There's over 750 different carrier's in the world and you are free to indulge. Travel to any country on the globe and never have to worry about falling out of touch or getting slammed with ridiculous roaming charges. Swap sim cards back and forth as many times as you please until you find the right network for you. There's a lot of companies out there fighting for your business and we see no reason why you should be tied down to just one for years at a time. Having an unlocked phone puts you in the power position and gives you the options to choose!
Can you unlock any carrier or model in the world?
Yes we unlock almost every GSM model ever made! Doesn't matter what country it's from or carrier it's locked to, we will help you unlock it! Last year alone we unlocked almost 200 countries, 525 different carrier's, and a little over 1.2 million phones worldwide. If you got a phone and need it unlocked you've come to the right place! We work very closely with the manufacturer's to ensure we get our customer's what they want. If you don't see your carrier or model on the site or aren't sure what carrier or model of the phone is please contact us and we will take care of you ASAP.
Do you unlock blacklisted phones?
Unfortunately we cannot unlock Blacklisted phones as it is illegal to do so.
What are the main benefits of unlocking my phone?
Here are a couple of the main benefits of unlocking your phone and the reasons behind why people just love to unlock their phone! Probably the most common one would be unlocking your phone in order to switch networks. 100,000's of people do this on a daily basis across the globe, it is actually a very common and beneficial thing that most phone owner's will do over the life span of their favorite phone. A few of the main reasons people find themselves switching carrier's every couple years is lower prices, larger coverage, better plans, faster 4g speed, special offers, and much more. Not to mention, the list of carrier's to choose from is growing by the year! What's important to us and a huge benefit of unlocking is when they move from carrier to carrier people are able to keep using the same phone without having to purchase a brand new one every time they switch. Because let's be honest, our phone is like our baby! After a few months we get attached and don't want to part with it. Not to mention, learning a new phone is so frustrating! The beauty of an unlocked phone is you just simply enter the new carrier's sim card and it picks up signal within seconds. Yeah, we think that's pretty cool too! The second of the two main benefits to unlocking your phone is being able to travel and not worry about roaming charges. Bring your unlocked phone with you and once you arrive at your destination simply purchase a local pre-paid sim card, enter it and walla it works! Your phone will work flawlessly as if you had never left! Save hundreds during your trip and when you get home just swap that out for your old sim card and you're back in business. This works great for people going on vacation, traveling for work, student's studying overseas, or men and women serving their country overseas. All these things are just a couple of the many great benefits! Hope this was able to help you understand the world of unlocking a little more and all the great things that come with it.
Yeah but am I safe purchasing online?
Absolutely. Every purchase is 100% safe and secured. Our website is verified and scanned on a daily basis by numerous accredited online security companies. Each purchase is protected and all billing information completely private as all transactions are processed through Paypal.. Absolutely no information is shared nor do we save it. We hold ourselves to the utmost highest standards at this company and our customer's privacy and well being is by far the top priority.
If I order what are you going to send me?
When you order you will immediately receive a confirmation email followed by an email containing the unlock, unlocking instructions, and our contact information if you have any questions.
Is this different than getting it from the carrier?
The unlock code and instructions will be the exact same whether you get it from us or your carrier. But if you choose us we promise you don't need to spend an hour on the phone begging for the code, waiting up to 2 weeks for them to email to you, and finally 9 times out of 10 we are much cheaper anyways. The whole process from start to finish is almost identical, but when it's all said and done we guarantee you will be happier if you go with us!
Is this different than unlocking at a local repair store or kiosk?
The unlock code and instructions will be the exact same whether you get it from us or go to a local store. But if you choose us we promise you don't need to drive half way across town to a store you've never been to, wait there for hours until it's finally done, and pay almost 100 dollars for something we can do for a fraction of the cost. Save yourself the time and money and let us help you unlock your phone! Not to mention most local shops unlock it the cheap unhealthy way, by hacking into your phones mother base and deleting information that should not be deleted.
So why should I pick you instead?
There are several options to choose from when it comes to unlocking your phone but with us we can offer you the fastest, cheapest, and most convenient way of doing that. Every customer when shopping online wants to know the website they are using is safe, has the exact product they need, and can give them the best price and fastest delivery time, well we can definitely give you those and more. We are faster and more convenient than using the two options above and are a safer and much more trusted company than the thousands of fly by night websites you'll find online. With a 100% satisfaction guarantee and years of experience we have exactly what it takes to make our customer's happy and thankful they decided to choose us.
What is an unlock code and how do you get it?
Every phone made by it's manufacturer is assigned an IMEI (serial number) and an unlock code that goes with it, in the case the customer wants to unlock their phone. Since we are one of the oldest companies in the industry we work directly with the manufacturer and it's database which allows us to obtain the unlock codes for IMEI's that we request. The whole process is very straight forward and allows customer's like yourself to unlock their phone when needed.
What if my phone doesn't ask for a code and has the "Device Unlock App"?
After 2015 a lot of carriers in the U.S. begin adding a pre-installed app on the phone called "Device Unlock". Which causes it to not prompt for a code. But no worries, we absolutely can unlock these phones. We do hundreds of them a week. Instead of providing a code for the phone, we simply remote unlock it, like we would an iPhone. By moving the IMEI from the phone the "locked" column, to the "unlocked" column in the server database. So if you can't unlock it, let us help you!
Can you unlock my iPhone? It doesn't ask for a code!
Just like the app unlock phones above, absolutely! These are remotely unlocked via the manufacturer database. We will unlock it for you and once finished, simply email you the easy final unlocking instructions and you're good to go!
Are you open 24/7 if I want to order or have questions?
Yes. We have several offices worldwide full of trained professionals who are ready to answer any question or help you with anything you may need.
How can I contact you?
Call us, chat with us on live help, call us via skype, or email us. We are a hands on company who is going around the clock. We are right here if you need anything!
Where are you located and am I dealing with actual people?
We have several locations worldwide and do business with every country, language, and currency in the world. Every aspect of our company from start to finish is done by one of our trained professionals.
Is this a well known trusted company?
We sure would like to think so! On any given day we receive over 5,000 visitors from over 120 different countries. We take what we do very seriously and work very hard to keep a good reputation. With over 3 million phones unlocked and 7 years in the game we have the knowledge and experience to make sure every customer is happy!
Where can I read reviews and experiences about your company?
There are multiple review websites online you can read current feedback from all our customers. Resellerratings.com TrustPilot.com ReviewCentre.com and we have a A+ Rating on Better Business Bureau! You can also check out our reviews and feedback on our website as we keep links to all these reviews close to home.
What if you can't unlock my phone?
If you run into any issues after we send you the unlock code contact us and one of our trained professionals will walk you through the process and make sure that phone gets unlocked!
Do you have a 100% customer satisfaction guarantee?
Absolutely! On every purchase. If you're not 100% satisfied with our product and service than you get a 100% refund immediately. Simple as that.
I found a cheaper price online will you match it?
Yes. If you find a lower price contact us and we will get you a discount code instantly not only matching but beating the other price.
Is it easy to unlock my phone? Do I need technical knowledge?
Incredibly easy. All you do is enter a number into your dial-pad and press enter. There's no chords, downloads, jail-breaking, or techie smarts required. If you can send a text or make a call than you can unlock your phone!
But if I do have any trouble will you help me?
Of course! If you run into any issues or your phone is giving you trouble contact us and we will walk you through the process and get you up and running within minutes! One of the most important aspects of what we do is customer service and being there for you if you need anything.
Can I unlock my phone anywhere I want?
That's correct! All you need is your phone and the unlock code and you're set. You can be anywhere in the world geographically and the code never expires so unlock at your convenience!
After I order how do I track my purchase?
After you order If you want to track your purchase please contact us and we will check the status of your order. In the meantime if you like you can double check the average delivery times on the website.
Do I need any wires or cables to unlock my phone?
Nope. All you need is your phone, the unlock code, and you're good looks!
So once I get my unlock code how do I unlock my phone?
Once you receive the unlock simply power on your phone with a sim card that is a different carrier than your phone, soon as your phone boots up it will recognize the non accepted sim card and immediately prompt you to enter the unlock code. Type it in and press enter, it will alert you it was accepted, and now your phone is 100% unlocked. Whole process takes maybe 2 or 3 minutes tops. This being of course the phones that are unlocked via code, if you own an iPhone or a phone locked via Device Unlock App – we'll unlock your phone remotely and simply send you the final unlocking instructions. No matter how it's locked, don't worry, it's a breeze unlocking it.
Will it void the warranty or harm the phone in any way?
Absolutely not! Unlocking your phone is just one of the many great capabilities of cell phones. Phones we're created to accept unlock codes, to be unlocked, and doing so is just taking advantage of one the normal every day functions.
Once I unlock it can I update the OS or factory restore it?
Yes. You can restore, update, download, modify, etc as many times as you like.
After I unlock my phone will I ever have to unlock it again?
Once you unlock your phone is it permanently unlocked. We're talking forever! Your phone will never re-lock.
Do I have to jailbreak my phone before I unlock it?
Nope!
Is it illegal or looked down on if I unlock my phone?
Absolutely not! Unlocking eligible phones is 100% legal and endorsed by almost every carrier and manufacturer in the world. Not only is it beneficial to the user but it also has became very popular with all the pre-paid companies springing up all over the world. They're business model relies on user's bringing their unlocked phones over to their network. With all the great benefits becoming more widely publicized, it has actually become a huge hit among consumers and in the tech world and we expect it to only get bigger!
After I unlock my phone can I keep using my current carrier?
Absolutely. You can unlock your phone at any time on or off contract for any reason. Keep using your current contract or use several at a time with your unlocked phone. People going on vacation, have several carriers, are selling their phone in the future, etc. there are tons of situations or instances where people unlock their phones and keep the same carrier for years to come.
Will it somehow effect my current contract?
Not at all. Unlocking your phone does not effect any current contracts you're in.
Will they know if I unlock it or get mad at me?
No they will not know nor will they care. As long as you are in good standing with your carrier they don't care what you do with your actual phone and that includes unlocking it.
Why are some codes instant while others take a few days?
How fast we get the code depends on the manufacturer we get it from. We submit every order the minute you purchase but once we hand it off to the manufacturer the time it takes to process and send us back the unlock code takes anywhere from a couple seconds to a few days. You can find all the average delivery times on the website when you select your phone.
Why do I have to pay for the unlock code?
We pay a small fee to the manufacturer for every unlock code we request and in turn must do the same. What we can guarantee you is our prices are well below market average!
Why are some codes cheap while others more expensive?
Some manufacturer's charge more than others so depending on their prices ours vary as well.
How do I pay and is my information safe?
We accept Paypal, credit card, and check card. Every purchase is absolutely 100% safe and private.
I am traveling abroad, do I need to unlock it?
Yes in order to avoid roaming charges unlock your phone and when arrive at your destination simply purchase and use a local pre-paid sim card for the duration of your trip. It's very cheap, your phone will work just as it does on your normal carrier, and when you get home just swap sim cards again and you're back in business.
I want to switch to a different carrier, can you help?
Absolutely just purchase and we will email you the unlock code and instructions to the email you provide us. Once unlocked you can choose whatever carrier you like.
Can I unlock my phone and use it on a cheaper pre-paid carrier?
Yes and that's actually a very smart move. Pre-paid carrier's don't lock you down to a lengthy and expensive contract for years at a time and also are usually over half the cost. They use the same towers as the bigger carriers so you receive the same reliable fast coverage. As people smarten up and competition grows we have definitely seem a big swing towards pre-paid networks the last couple years.
Is it true if I unlock my phone it raises the value?
Yes by almost 50%. When you sell the phone make sure you unlock it first because more buyers will be interested in purchasing and that drives the price up.
Will my internet and data work after I unlock?
Yes it will!
Will I lose any of my information like games apps or contacts?
Absolutely not. Unlocking your phone simply lifts the software lock that was placed on there originally and doesn't erase or delete anything on the phone.
If I unlock my phone will every feature still work?
Of course! Every feature will work flawlessly just as it did before you unlocked the phone.
Will everything work on my phone once I start using a new carrier?
Yes. No matter what carrier you use or how many times you switch everything will work exactly the same as it did before you switched carriers.
So be honest is there any negatives to unlocking?
No. Not one.
How do I know my phones locked?
Most phones come locked by the carrier but an easy way to find out is to just enter a different carrier's sim card and see if it picks up signal. If it doesn't then the phone is locked.
I'm not sure which product to pick what should I do?
Contact us and we will help!
If my phone or carrier isn't listed what should I do?
Contact us and we will help!
If I live in a different country can you still unlock my phone?
Absolutely! We are a worldwide company! Every day we have visitors from over 120 countries looking to unlock over 400 different carrier's across the globe.
If I use a different currency can I still use your services?
That's right! We offer every currency from every country in the world. It will show your exact local currency once you get to the payment page.
If English isn't my first language will this be difficult?
Of course! Being a worldwide company we do business with customer's on a daily basis from all over the world a lot of them English is their second language or don't speak it at all. If you need any help before or after the purchase contact us in whatever language you need and we will be sure to assist you!
If I have any questions after my purchase will you help me?
We are open 24/7 and are ready to help you with absolutely anything you need!
Can you unlock phones that have 0 tries left?
Unfortunately someone has already tried typing in the incorrect unlock code too many times and now your phone is hard-locked and is unable to be unlocked.
If I purchase more than one code can I get a discount?
Absolutely. Contact us and we will get you a discount code immediately.
So, what do I do next?
Have a look around the website and if you have any questions we're open 24/7 to assist you. Otherwise thank you for reading and we hope you decide to unlock with us!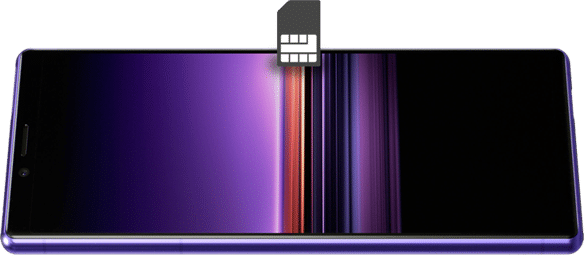 Why is my Sony Locked?
Carriers lock Sony handsets so people are less inclined to change providers, often contracts help subsidise the cost of the Sony phone.
With the price of modern Sony phones being high, carriers often reduce the upfront cost, and offer higher monthly contract payment which often represent poor value for money on data and minutes.
Unlock Sony phones online quickly and easily with The Unlocking Company.
Why unlock my phone with
The Unlocking Company?
Unlocking your phone with The Unlocking Company is a hasstle free, great value and permanent way of unlocking your phone. We offer the best way of IMEI unlocking your phone on the market, making it the best phone unlock service in the world!
Unlocked Phone
By The Unlocking Company
Worldwide Unlock


Your phone will work with any SIM card around the world!

Keep Your Phone On You
You can use your phone as normal as the unlock is completed.
Lifetime Unlock
Your phone will be unlocked for it's entire lifetime.
Warranty Remains Valid
Your phone warranty will not be affected by our unlocking service.
100% Successful
Our phone unlock has a 100% success rate, meaning the unlock will work first time!
Unlocked Partially


You may not be able to access carriers worldwide.

Send Phone Away


You may need to leave your phone in store or post it away – not secure!

Temporary Unlock


Once your phone updates or is reset the unlock may be removed.

Warranty Invalidated


Your phone warranty may be void, and phone hardware could be damaged!

Breach Unlock Attempts


Unsuccessful unlocking attempts could block you from unlocking phone at all.